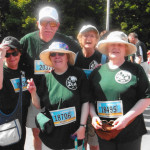 The Ottawa Race Weekend is one of Canada's premier race events and takes place every year near the end of May. The  above photo shows Norm McEwen with some of the 2012 team members from the Stuttering Treatment Clinic.
Standing tall as always among others, Norm was a long time advocate for people who stutter in Ottawa and across Canada.  For years he was a Board member of the Canadian Association of People Who Stutter (now known as the Canadian Stuttering Association CSA). He was also a founding member of the Ottawa Association of People Who Stutter (OAPWS).In addition, as the photo reflects, for many years Norm and other OAPWS members along with the team at the Clinic in Ottawa took part in the Ottawa Race Weekend under the banner of the Ottawa Hospital's Run For A Reason campaign.
Team members raised money for the Marie Poulos Bursary Fund. This fund provides Ontario residents with financial assistance to take intensive and semi-intensive therapy programs at the Clinic. This Clinic is located at the Ottawa Hospital's Rehab Centre.
This Year's Ottawa Race Weekend
Once again members of our team will be running and walking in various events. But this year without Norm. Norm died unexpectedly last fall. To say that he was loved by many and that he is greatly missed is an understatement.
This year the Clinic's "Let's Talk About Stuttering" team is fundraising in memory of Norm.
Whenever I think of the Race Weekend and our fundraising efforts the memory of these two individuals, Norm McEwen and Marie Poulos are  inextricably linked in my mind.
Marie was a speech language pathologist who worked at the    Stuttering Treatment Clinic from 1979 until she was tragically killed in a car accident in 1991. She was 36.
She was much loved and is still remembered by the hundreds of clients whose lives she touched through her work as a speech therapist. The bursary fund we fundraise for was established in Marie's honour shortly after her death.
Among Marie's many clients was Norm who took therapy from her in the mid 80s. Having stuttered most of his life, this therapy represented the first time Norm gained fluency and control over his speech disorder. He was not cured for stuttering cannot be "cured." But he learned to control his blocks, to use fluency skills and to talk openly about being a person who stutters.
For Norm this therapy was a life changing event, an experience for which he never ceased to be grateful to his speech therapist.
In 1992 a tree in honour of Marie's memory was planted on the grounds of the Rehab Centre. I knew that often before he went to a therapy session at the Clinic Norm would visit the tree and pause for awhile perhaps to once more give thanks to Marie.
For many years Norm maintained the area around the tree, weeding, trimming branches, clearing out debris. One of my fondest memories of Norm took place a few years ago one April when Norm mentioned that on the upcoming weekend he was going to do the spring cleaning around the tree. I asked if I could help.
So that Saturday morning when it was drizzling and chilly we drove to the Rehab Centre, unloaded his van with tools and flowers and set about our task.  Norm was a tall man and had his physical challenges. I could see it was difficult for him to bend and kneel on the ground but he worked on.
When we were finished before leaving we stood silently before the tree and the plaque commemorating Marie's effect on the lives of so many.  I could tell Norm who was among those hundreds of former clients was once again remembering this special therapist who had made such a lasting impact on his life.
Afterwards Norm and I went for coffee at Tim Hortons' as we had done so many times before. We talked about our wives, our family and friends, the self-help group we were involved in. And we even managed to squeeze in some fluency practise together.
We did not need to speak of Marie for I knew what she meant to Norm, how she touched him and how he never forgot her caring and her kindness. If I had said anything it would have been something trivial like asking why is it that so many of us males who stutter fall in love with our speech therapist?
Sitting there I realized something about Norm McEwen. It is true that Norm was involved and assisted in many groups and causes. For decades he had been involved in Special Olympics  to name just one organization. And we all were aware of what he did for so many of the members of our self-help group and  those taking therapy at the clinic. If you needed Norm's help he was there. If you needed someone to practise the fluency skills with, Norm was your man. Or if you just needed someone to talk to he would listen.
That drizzling spring morning I realized that Norm never forgot or hesitated to show his gratitude to those who had helped him along his life's journey.
As this year's Race Weekend approaches, and as I solicit sponsors and when I run on May 23rd, I will remember both Norm and Marie and the unspoken reminder Norm gave me that spring morning.
Never forget to give thanks.  So, thank you Norm.
David Burton